2-in-1 COMBO Stimulator /TENS & EMS Therapy system with 4 Channels R-C101C

The TENS & EMS therapy system R-C101C is a universal devices with 4 Channels. Ideal for relieving chronic pain and postoperative pain (Treating program for TENS: 30 programs (includes 12 customizable programs) and EMS: 20 programs (includes 9 customizable programs). The intensity of the programs can be fine tuned over 40 levels. The Treatment time can be between 5 min ~ 90 min.
The TENS function can be used to effectively fight pain. Highlights of the R-C101C are the large & clear display, which allows a significantly improved readability, as well as the integrated rechargeable battery. The operation is very simple, so that an uncomplicated application is ensured.



ABOUT PAIN:
Pain is an important signal in the human body warning system. It reminds us that something is wrong, without which, abnormal conditions may go undetected, causing damage or injury to vital parts of our bodies. Even though pain is a necessary warning signal of trauma or malfunction in the body, nature may have gone too far in its design. Aside from its function in diagnosis, long-lasting persistent pain serves useless purpose. Pain does not occur until encoded message travels to the brain where it is decoded, analyzed, and reacted to, from the injured area along the small nerves leading to the spinal cord. There the message is transmitted to different nerves that travel up the spinal cord to the brain. Then the pain message is interpreted, referred to and pain is felt.

WHAT IS TENS ?
TENS (Transcutaneous Electrical Nerve Stimulation) is effective in relief of pain. It is daily used and clinically proven by physiotherapists, caregivers and top athletes around the world. High-frequency TENS currents activates the pain-in-hibiting mechanisms of the nervous system. Electrical impulses from electrodes, placed on the skin over or near the pain area, stimulate the nerves to block the pain signals to the brain, causing the pain go unperceived. Low-frequency TENS currents facilitate the release of endorphins, the body's natural painkillers.

WHAT IS EMS ?
Electrical Muscle Stimulation is an internationally accepted and proven way of treating muscular injuries. It works by sending electronic pulses to the muscle needing treatment That causes the muscle to exercise passively. It is a product deriving from the square waveform, originally invented by John Faraday in 1831. Through the square wave pattern it is able to work directly on muscle motor neurons. The EMS System has low frequency and this in conjunction with the square wave pattern allows direct work on muscle groupings.


Product features:

- High quality 4-channel top model with new digital technology
- customer friendly integrated rechargeable Li-ion battery
- Effective therapy for pain and tension of the muscles
- Ergonomically designed
- Improved programs
- Large display with clear display
- Large buttons for easy operation
- TENS: 30 programs for stimulation current therapy / transcutaneous electrical nerve stimulation
- EMS: 20 programs for electrical muscle stimulation
- FDA certification


Technical specifications:

Device name Combo Electrotherapy Device
Model/type R-C101C
Power sources 3.7 V Li-ion battery
Power supply Input: 100-240V AC, 50/60Hz,0.2A; Output: 5V DC, 300mA
Output Channel Four channel
Waveform Bi-phase square-wave pulse
Output current Max. 120mA (at 500ohm load)
Output intensity 0 to 40 levels, adjustable
Treatment mode TENS and EMS mode
Program number 50 programs
TENS : 30 programs EMS : 20 programs
Pulse rate 2Hz ~ 120 Hz
Pulse width 50uS ~ 400uS
Treatment time 5 min ~ 90 min
Operating condition 5 ° C to 40 ° C with a relative humidity of 15%-93%, atmospheric pressure from 700 hPa to 1060 hPa
Storage condition -10 ° C to 55 ° C with a relative humidity of 10%-95%, atmospheric pressure from 700 hPa to 1060 hPa
Dimension 144 x 86 x 29.6 mm (L x W x T)
Weight about 160g
Content of Delivery:

- 2-in-1 COMBO Stimulator R-C101C
- 8 Eectrodes (50 x 50mm)
- 4 cables
- User Manual


additional Information:


User manual (englisch)

FDA-Certificate
Klasse!
Das Gerät hilft hervorragend bei Rückenschmerzen, Gelenkschmerzen und vieles mehr (30 vor eingestellte Programme). Nach einer Anwendung bei Schmerzen an den Lendenwirbeln habe ich sofort erhebliche Erleichterung verspürt. Es gibt allerdings einen Minuspunkt, das sind die Klebeelektroden. Nach ca. 10 Anwendungen lässt die Klebeleistung leider bereits nach. Ansonsten bin ich voll zufrieden.
gut & günstig
Ich war auf der Suche nach einem Ersatz für unser altes 4-Kanal Tens/Ems-Gerät, und wir haben uns für dieses entschieden. Das Modell sieht wertig aus und lässig einfach bedienen. Zudem war es wesentlich günstiger als die anderen Modelle die bei uns in die nähere Wahl kamen.
Customers who bought this item also bought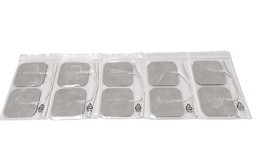 % 16,90 € incl tax
19,90 € incl tax