Viatom Wellue O2 Ring™ - Sleep Oxygen Monitor - Sleep tracking without external finger sensor
The lightest and smallest SpO2 sleep monitor on the market without external finger sensor. In case of low SpO2 value or low heart rate a vibration is automatically triggered (SpO2 threshold and vibration intensity can be freely selected). The vibration can be used to achieve an awakening reaction of the body (arousal) in the case of longer pauses in breathing/breathing disorders.. A recording can last up to 10 hours. Ideal for the treatment of obstructive sleep apnea (OSA).
One of the symptoms of COVID-19 is shortness of breath. O2Ring measures the oxygen level in the blood and can provide accurate data about what is happening in the body. A normal oxygen level in the blood should be between 95 and 100 percent. O2Ring alerts when this value drops to 90 or below.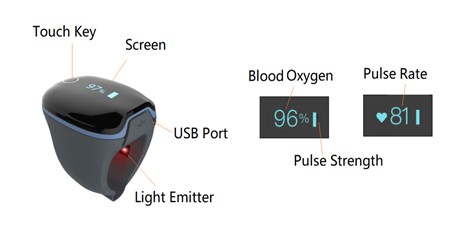 The Viatom Wellue O2Ring™ provides simple, reliable and consistent oxygen measurement / long-term recording and heart rate monitoring.

- Continuous monitoring / recording of SpO2 and pulse rate (10 hours) without external finger sensor
- LED display for blood oxygen and heart rate on the ring
- With low blood oxygen or low heart rate an automatic vibration (no acoustic alarm) is triggered (limit adjustable!)
- Data management via Smartphone (App: ViHealth for iOS & Android)
- CE certified as medical product
- App shows the graphical sleep report
- suitable for finger/thumb-Size of 2.0~3.2 inch / 5~8 cm
- free USB data cable for data evaluation included in delivery / PC and MAC-Software under Wellue Software/App



Box contents:
- Wellue O2Ring™ - Ring Oxygen Monitor
- USB Charge- & PC-Cable
- User Guide

more Information:



Medical CE certificate/report from TÜV Rheinland



User-Manual Viatom Wellue O2-Ring (englisch/german)



FAQ:

Do I need to pair Bluetooth?
DONOT PAIR in the settings of smartphone. Make sure the Bluetooth is enabled both on your phone and monitor. Just open App, select the device ID to enter App for the initial use.
Why do I need to allow Location access for Android?
With android phone, you need to allow Location access to make Bluetooth work. Viatom is NOT collecting your location data.
How to sync data?
Take off the sensor. After the countdown, the data will be ready for sync.

1) After the countdown, open App to sync data.
2) Or next time after you turn on your monitor, open App to sync.
Do I need to power off the monitor manually?
Usually no need. If you don't use it, it will power off automatically in a while.
Can I change the settings of vibration?
Yes. When you connect the device to your phone, you can turn on/off the vibration, change intensity or threshold.
Can I change finger during use?
Yes, when you take the sensor off, the countdown will begin. During the countdown, wear the sensor again, the record will be resumed.

Viel besser als ich mir das vorgestellt habe.
Es ist für mich ein ständiger Begleiter in der Nacht geworden, eine einfache Art meinen Schlaf und die O2 Versorgung zu tracken.
super
extrem einfach Bedienung. Gute App + PC-Software. Auswertungen zeige ich ab sofort immer meinem Arzt! :-)
genial einfach & gut
Nachdem ich schon einen anderen Artikel hier bei Trendmedic gekauft hatte, und selbst unter Schlafabnoe leide (mit Folge großer Tagesmüdigkeit), wurde mir von einen Freund der O2-Ring empfohlen. Als Alternative zur Atemmaske (wurde mir von dem Arzt gesagt), ist der O2-Ring für mich die weit aus bessere und komfortablere Lösung. Das Produkt ist sehr einfach, vibriert dezent bei errreichen der persönlichen Sauerstoffgrenze, und am nächsten Morgen lassen sich die aufgezeichnenten Daten begutachten (App oder PC-Software). Eine sehr gute Lösung!
Customers who bought this item also bought