Viatom TH12 - 12-channel ECG recorder (Holter) / Analysis Technology with Artificial Intelligence
Many heart diseases are sporadic, and patients are hard to find abnormalities when they go to the hospital for an electrocardiogram. Because an electrocardiogram time is too short to diagnose paroxysmal atrial flutter sometimes. Compare with an electrocardiogram (ECG/EKG), a Holter monitor will provide a complete picture of heart activity necessary for the diagnosis of cardiac conditions, can discover arrhythmias that are hard to discover at usual and statistics its occurrence frequency and clear severity.
With this palm-size 12-Channel Holter Monitor, people can continuously record their heart activities for up to 24 hours and get their ECG reports at home. It's user-friendly for personal use and also a helpful tool for doctors to track their patient's wellness.
GET ECG REPORTS AT HOME -- AI-ECG Analysis System can intelligently identify up to 14 kinds of abnormal ECG events, generate detail reports & ECG waveform. Easier operation, faster diagnosis.
AI ANALYSIS -- Viatom FDA-Proved AI ECG algorithm, which is based on 300,000 patients and 50 million learning data fragments to analyze data and generate reports. People just need to download the PC software/Mac App and connect the SD card to the computer to view the ECG/EKG waveform and get the AI-ECG analysis report.
PALM-SIZE & LIGHTWEIGHT -- Handling your heart health with this palm-size 12-Channel Holter monitor. It weighs only 2.2oz, people can carry it anywhere by wearing a leather case (package included). Make ECG measurement become more simple and convenient.
SHARE REPORTS WITH YOUR DOCTOR -- The reports can be saved as PDF files and sent to your doctors. To help the professionals know more about your heart health.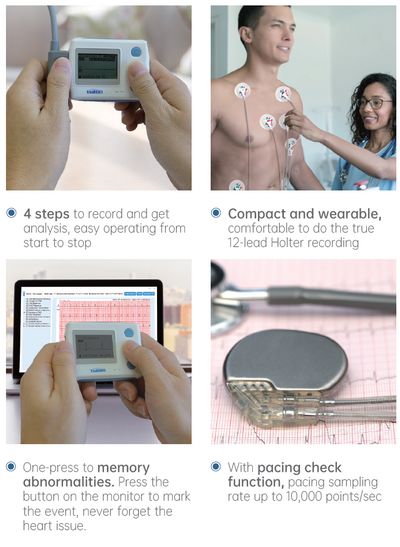 The Viatom Th12 is equipped with AI-ECG platform, which effectively solves the problem of comprehensive data management inside and outside the hospital, accurately captures subtle ECG changes, and provides a reliable basis for clinical diagnosis and treatment.

Viatom's AI ECG detects more than 20 types of events, including the main arrhythmias:
Pause
Atrioventricular Block (second-degree Mobitz types I and II
Third-degree, advanced high-grade AV block)
Atrial Fibrillation or Atrial Flutter
Ventricular Tachycardia
Premature Supraventricular Complexes (PSVCs)
Myocardial ischemia
ST segment and T wave changes
Atrioventricular hypertrophy
Left atrial hypertrophy
Right atrium hypertrophy
Double atrial hypertrophy
Left ventricular hypertrophy
Right ventricular hypertrophy
Biventricular hypertrophy
Product Features:
AI-ECG Report. AI intelligently identifies 25 heart abnormalitiessuch as Atrial Fibrillation, Atrial Flutter,Ventricular Tachycardia,Supraventricular Tachycardia,etc.
24h dynamic recording. Holter ECG can continuously record ECG for 24h monitoring for 7 consecutive days in daily activities.Professional inspection standard.
Professional AI ECG analysis platform. Get medical-level AI-ECG interpretation from the AI-ECG Platform, which is powerful to identify most common abnormalities.
With Pacing Check Function. ECG with 250Hz sampling rate and pacemaker function for high quality data.
SD Card. Th12 lead recorder has built-in sd card, supports data export, realizes massive ECG data storage, and facilitates data storage and management.


Why Viatom AI-ECG Platform?
Many arrhythmias do not occur frequently enough to be detected with current monitoring technologies such as Holters and Event monitors. Patients suffering from such arrhythmias require efficient and reliable long-term continuous real-time monitoring. To ensure patient compliance and customer satisfaction Viatom AI ECG is designed to monitor different types of arrhythmias.
Fast acquisition of Accurate ECG data
AI-ECG Platform can get AI-ECG analysis faster. Five minutes of ECG data is completed in one second by AI automatic analysis. At the same time, the AI-ECG Platform can quickly obtain accurate ECG data. AI-ECG technology development is based on 300000 patients and 50 million pieces of data accurately labeled. AI-ECG Platform uses 1 million independent test data to test and passes the international standard ECG database comparison test, whose complete accuracy is up to 95.2%.
APP to view ECG data in real-time
ECG data of the AI-ECG Platform can be displayed synchronously with a mobile app. AI-ECG Platform can be connected to the app through Bluetooth, and real-time heart rate and ECG monitoring can be obtained through a dynamic visual display. Users can view ECG data in real-time.

Technical Specification:
Power Supply: 1*AAA alkaline battery (1.5V 700mAh) for 24 hours recording
Ports: HDMI (for lead wire)/USB (for USB connecting)
Weight: 62g (main unit with battery)
Display: 1.4" 128*64pixals Liquid crystal screen (LCD)
Dimension: 75*58*17mm
Temperature rise of the applied parts: Not exceed 1℃
Duration of contact for all applied parts and accessible parts: t≥1min
Polarization Resistance Voltage: ±300mV
Storage: 24 hours, Equipped with SD card
Time Constant: ≥300mV
Frequency Response: (0.67Hz~40Hz)(+3dB~-3dB)
System Noise: ≤ 50μ V(p/v)
Common Mode Rejection: ≥80dB
Input Impedance: >10MΩ
Input Dynamic Range: ≤ ±5mV
Sampling Accuracy: 24 bits
Sampling Frequency: 250Hz



Further Information:



User-Manual ECG-Recorder Viatom TH12

Note: It is normal for each measurement result to be different due to the sporadic and transient nature of ECG events. It is recommended to increase the frequency of monitoring and capture incidents on time. The results of the ECG report are only for reference in daily heart health monitoring, they cannot replace the medical diagnosis results and cannot be used for clinical diagnosis and treatment.
Customers who bought this item also bought