Pulse Oximeter Viatom Oxysmart / OLED Pulse Oximeter with Perfusion Index (PI) / Model PC-60F

The pulse oximeter measures simply & uncomplicatedly, simultaneously the arterial oxygen saturation and heart rate. Ideal for private use, hospitals, rescue services, allergy sufferers or even athletes (after competitive sports). Especially suitable for people with heart failure, chronic obstructive pulmonary disease, bronchial asthma or for sports at high altitudes. The pulse and oxygen meter can be easily operated with a button.
The display of the Pulse Oximeter SP02% gives a statement about the current blood oxygen saturation in percent, the display PR bpm shows the heart rate in heart beats per minute. Additionally, these values are graphically supported and the Perfusion Index (PI) is displayed. For oxygen saturation a corresponding SP02% wave below the values is displayed, the signal strength of the heart rate is shown as a histogram bar on the side. The pulse oximeter can store up to 12 groups of SpO2 data in the built-in memory.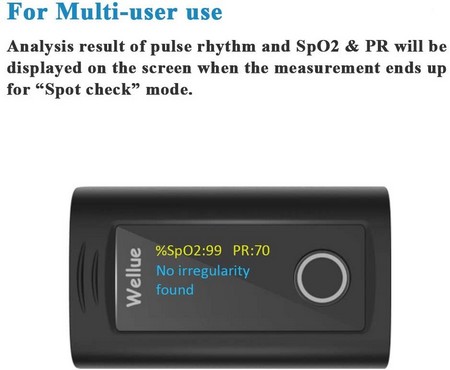 What does Perfusion Index mean?
The PI is a numerical value that corresponds to the pulsatile blood flow at the sensor position. It is a relative value that varies from patient to patient and depending on the sensor position. Values above 4% are considered reliable. The body part with the highest PI is optimal for measuring SpO2 parameters and heart rate. The measurement accuracy is very high even when the patient is moving.

Characteristics:
- OLED display of SpO2, PR, PI, Pulse bar and waveform
- Special design with splash-proof and drop-resistant
- 4 direction Display
- Spot check and continuous measuring mode
- Audible and visual alarm with low battery indication

Technical specifications:
Delivery:

- Fingertip Oximeter / Model PC-60F
- Batteries
- Lanyard
- CarryBag

additional information:

CE-Certificate for Pulseoximeter Oxismart


Note: The pulse oximeter plays a supporting role in the diagnosis of patients. It does not replace any medical diagnosis. Bright light sources around the sensor can falsify the measurement result. Low blood pressure, low contractility index, anemia, shock or low body temperature lead to measurement errors.
Customers who bought this item also bought