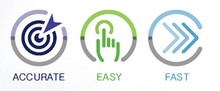 The Premium Breathalyzer!
The main feature is in the breathalyzer Alcofind DA-9000 it the package of high precision, quality and diversity. A very fine resolution display with animated displays, a huge data storage with 250 storage locations a built-in IrDA (infrared) printer interface, as well as the PC software to evaluate the measuring results (USB cable is included) give this power on extremely wide range of applications. Very nice is also the interaction with the (optional) mobile battery-powered and wireless printer. With all these features plays the Alcofind DA-9000 in the same class as Dräger or Envitec, but with only 1/3 the costs! A clear recommendation from us!

The features of the Alcofind DA-9000 :

- Fuel cell sensor ( Premium padding Cell )
- Highest accuracy and precision ( inaccuracy < ‰ 0:04 ) !
- High-resolution display with enhanced information (date, time , etc. )
- Freely adjustable units ( mgl / l , g / l , % BAC )
- Counter function
- Data storage for 250 measurements
- Data management via PC software including USB cable .
- Wirless Printing interface via IrDA / Printer option using infrared technology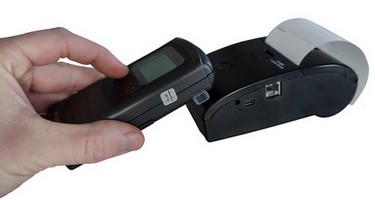 Wireless printing of all values ​​via infrared interface (optional)

Technical specifications:

Scope: commercial & private area
Display: 0.000 to 2.500 mg / L = 0.500 BrAC% BAC = 5.000 ‰
Display: Audible and visual warning in 3 stages with alcohol detection with LCD display (backlit)
Accuracy: Accuracy ± 0.025 mg / L corresponds to approximately +/- 5% at 1.0 per mill!
Warm-up time: max. 12 seconds
Recovery time <5 seconds at 0.000 ‰
Measuring Time: 5 seconds
Sensor: electrochemical (Premium Fuel Cell Sensor)
Sensor-size: 22 x 15 mm
Weight:. 157g including batteries
Size (W / L / H): 5.8 x 12.5 x 2,67cm
Material: ABS plastic, black
Certifications: CE certification
Menu: User menus in English
Power supply: 2 x AA Akali - battery, low battery indicator, auto power off
Other: Indicates whether a sufficient breath sample was submitted
Calibration 6 - 12 Months or after 500 tests

Delivery content:
Breathalyzer DA-9000
2 x AA-Akali - Battery
10 Mouthpieces
USB cable
Data software on CD-ROM
Operating instructions (English)


Further information:

Data Sheet ( English) for the breathalyzer Alcofind DA -9000


User manual ( English) for the breathalyzer Alcofind DA -9000


Print-Out (data analysis - Software) the breathalyzer Alcofind DA-9000


NOTE: The manufacturer and the sellers will not take any legal responsibility for the test results.
| | |
| --- | --- |
| Brand / Manufacturer | Alcofind / DaTech |
| Model / Type | DA-9000 |
| Application | private & commercial |
| Sensor type | elektrochem. Sensor / Professional-Fuell-Cell |
| Sensor Size | 22 mm |
| Measuring range | 0,00-5,00 ‰ |
| Measurement mode | active & passive |
| Accuracy up to 1 ‰ | ± 0,05 ‰ |
| Measurement units | % + ‰ (BAK) + mg/l (AAK) |
| Measurement data storage | 250 readings |
| Test counter | yes |
| Menu language | Englisch |
| Calibration interval | 1.200 Tests or latest 1 year |
| Power supply | 2 x Battery Typ AA |
Customers who bought this item also bought